You're looking for a wallet, and you're sure that you want something slim and minimalist, but the question arises: what's the best minimalist wallet for you?
Do you want a wallet made from leather, nylon, or carbon fiber?
Do you prefer a money clip, a cash strap, or a money pocket?
How many cards do you need to store?
Is it a priority to fit in your front pocket?
As always with minimalism, the first and most important criterium is what you need. It doesn't make sense to buy a cardholder with only three or four sleeves and no money clip if you need to carry five or six cards and bills. Assess what's essential in your life and choose a minimalist wallet accordingly.
Keep reading to get the most information possible about each of the 15 best minimalist wallets in 2022 and make an informed choice about your future wallet purchase!
Let's now go through the chief features of each product to help you choose your next minimalist wallet.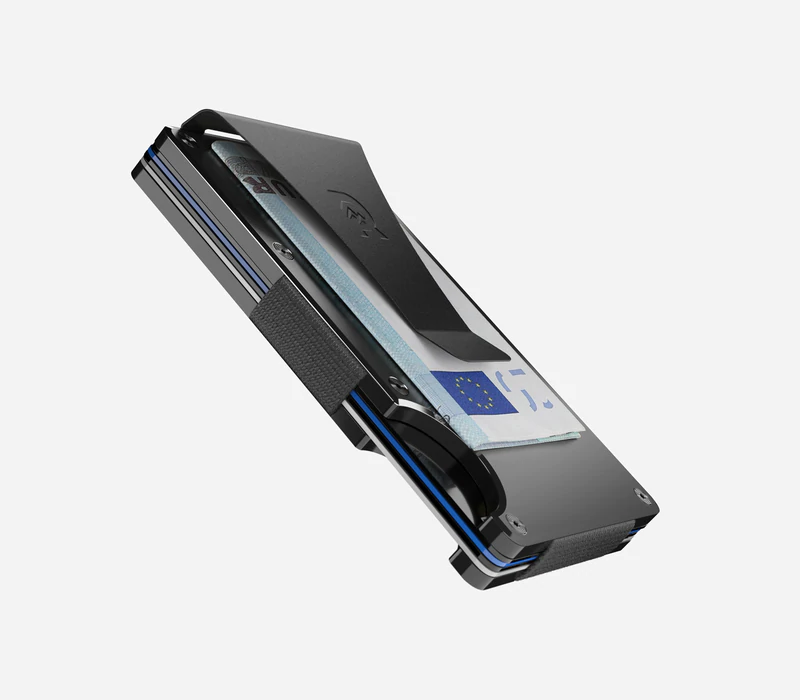 If you've ever researched minimalist wallets, you must have come across this Ridge wallet. This metal card holder is one of the most sought and bought models by those who want to decrease the clutter in their pockets.
Key features
Lifetime warranty
There are three versions of this wallet made from different materials: aluminum, titanium, and carbon fiber
Crafted in the USA
Durable and lightweight
It comes in several colors
It's a two-plate wallet system, and the two plates are held together with a strong plastic strap that prevents bills and cards from falling to the ground
According to the brand, you can fit up to twelve cards between the two plates, but the recommended number of cards for a comfortable experience is eight
There's a thumb notch on the bottom to take the cards out 
You can choose one of two systems to store bills: the money clip or the cash strap. The first has a single point of contact with the wall, whereas the latter runs along the entire length of this slim wallet. 
Usually, buyers prefer the money clip because it gives quicker and easier access to the bills. The grip of the cash band can sometimes make it awkward to pull out the money.
It comes with a Torx driver in case you need to change the elastic strap or want to switch from the cash strap to the money clip or the other way round
Both the strap and the clip leave the money exposed, which is a downside to some
You can buy separate wallet parts if you need to replace a broken part
There's no coin pouch
Since the Ridge Slim minimalist wallet isn't a traditional model, it might take you some time to get used to quickly pull out your cards without spraying them all over the floor
RFID blocking system
Price range: Middle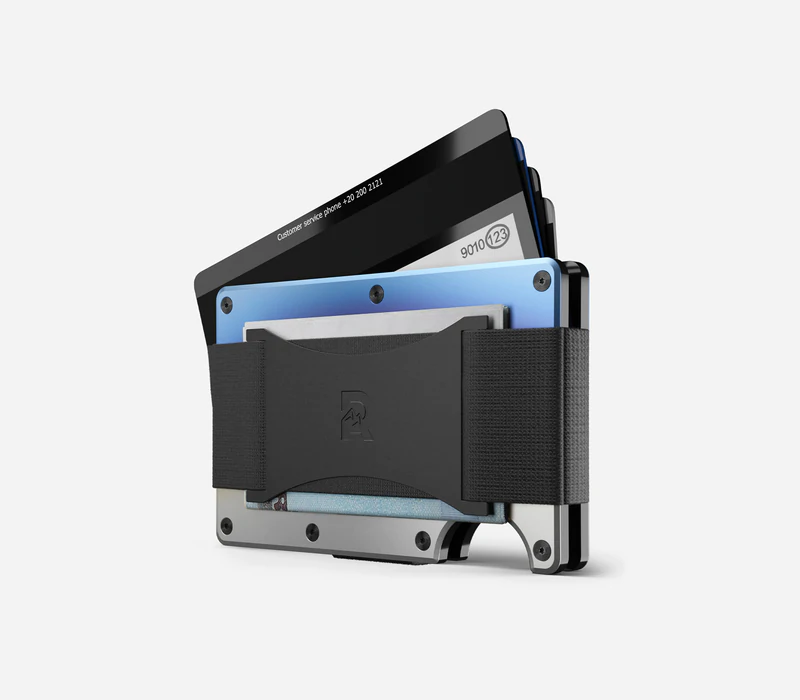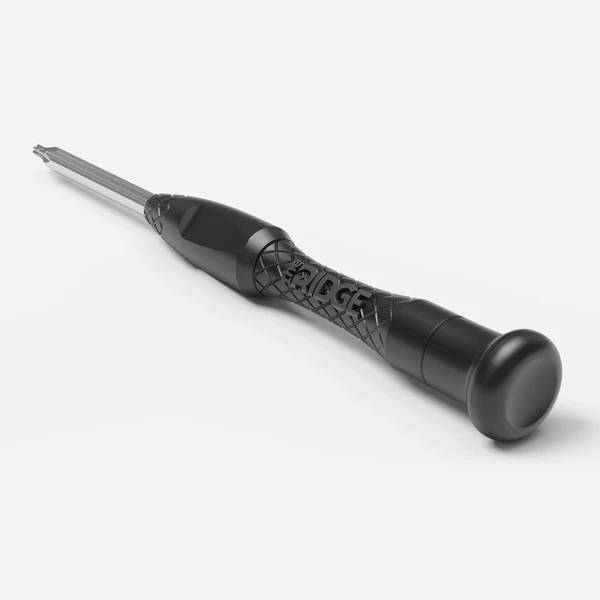 Ekster's wallets are also a favorite for minimalists. It's a sleek, elegant, metal wallet with a fantastic feature that makes it one of the most practical minimalist wallets: a card ejection system.
Ekster declares itself to have a planet-over-profit business model. The company has been making significant changes to become more sustainable. The brand has become officially climate-neutral and is about to become a B-corp.
Key features
One-year warranty
Made from aluminum
Made in China
It comes in several colors
You can buy an Ekster tracker and avoid losing your wallet. You can ring it from your phone or see where you last had it using a map
The Ekster Slim minimalist wallet comprises a box for internal storage where you can keep up to six cards, depending on the number of embossed cards. The cardholder contains a card ejection mechanism, and at the click of a button located at the bottom of the slim wallet, the cards are fanned out.
The cards are completely safe inside the internal slot due to a friction stripe that prevents them from falling off
On the outside, there's an expandable plate, secured by an elastic band, where you can store up to nine cards, bills, or receipts. That is an ideal feature for minimalists who prefer to keep their money hidden, as the backplate covers the cash. However, if you find the plate unnecessary, you can remove it and keep only the cash strap
This minimalist wallet fits up to fifteen cards
It might set off metal detectors
The durability is questionable: buyers report that the wallet breaks somewhat easily because the exterior is made from aluminum, but the interior parts are plastic
RFID blocking technology
Price range: Middle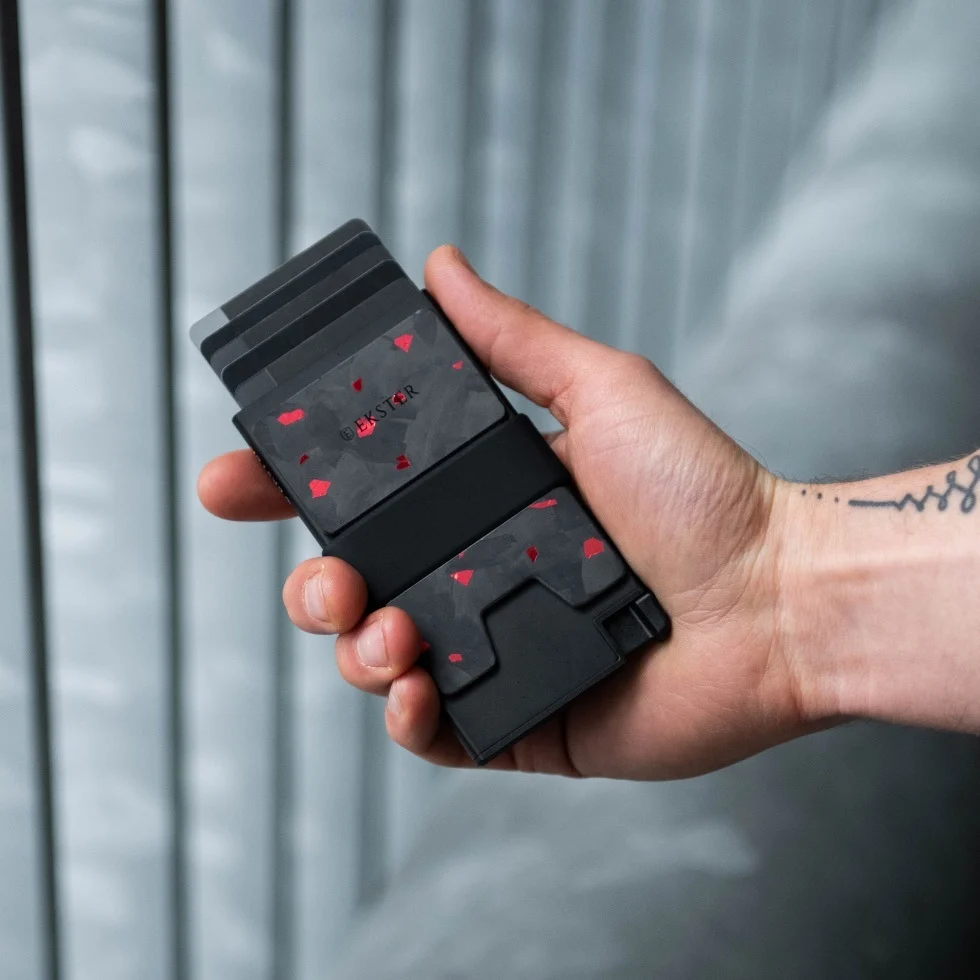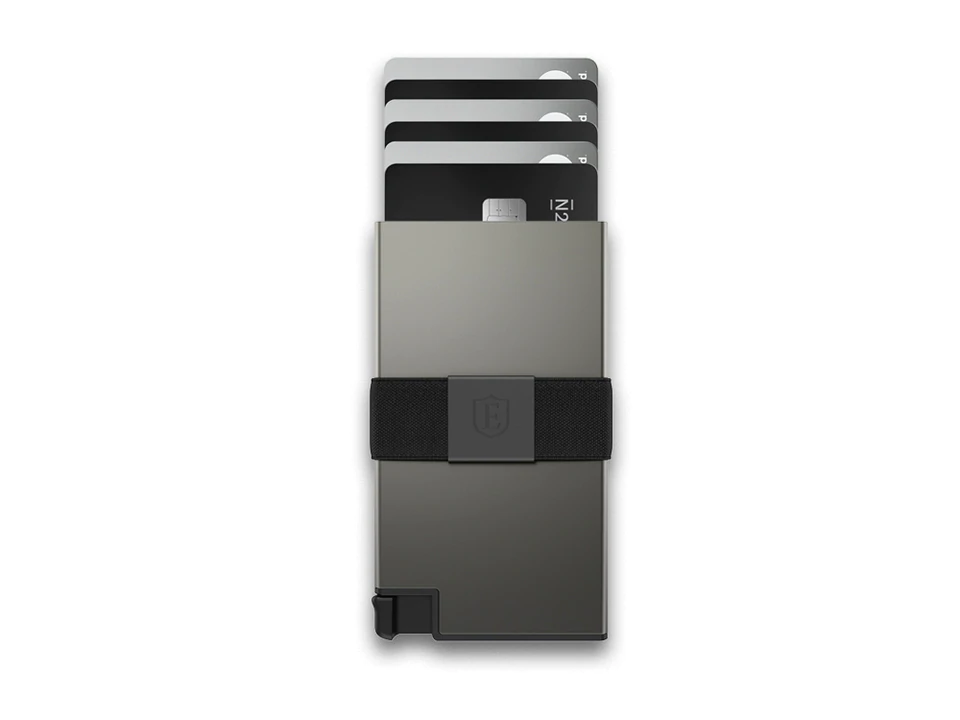 This is a special wallet, as, on their website, Filson says that this model was made to answer firefighters' needs. And thus, the water-repellent and abrasion-resistant Filson Smokejumper wallet was born.
Unlike the previous products, the design of this minimalist wallet is more traditional, however, still more compact and lightweight than the average wallet.
Key features
Made from cotton
Made in the USA
It has a wax layer for extra protection (oil finish tin cloth) with nylon binding for enhanced durability
It's a lightweight and slim wallet
There's a fold-over flap that self-closes into an exterior pocket
Inside, there are four card slots and one large cash compartment where you can fit a few bills or more cards
The wallet has low storage
No RFID blocking technology
Price range: High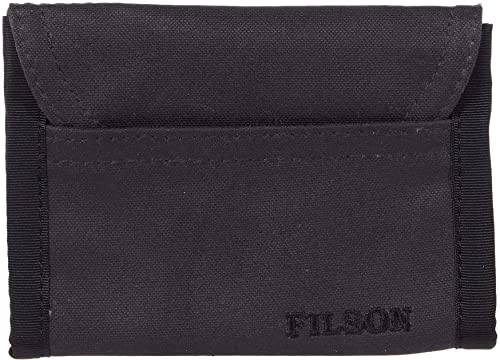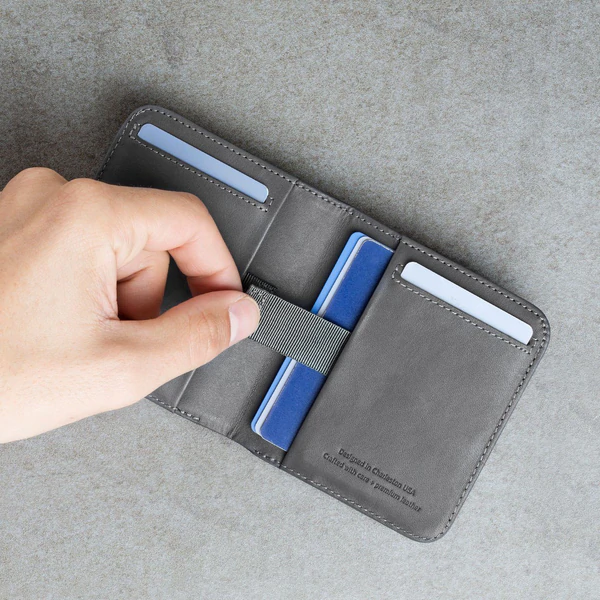 The Distil Union Wally is a discreet, minimalist wallet. It's a bifold wallet, making it front pocket-friendly since it only folds once and doesn't get bulky.
Key features
One-year warranty
Made from full-grain leather
It has two quick-access card sleeves for two frequently used cards
Inside, two inner pockets hold up to three cards
The two inner pockets come with a trademark slimming pull tab
There's a large top pocket for bills 
Fits international currency
According to the brand, it can hold up to twelve cards and thirty money bills without unnecessary bulk
RFID blocking system
Price range: High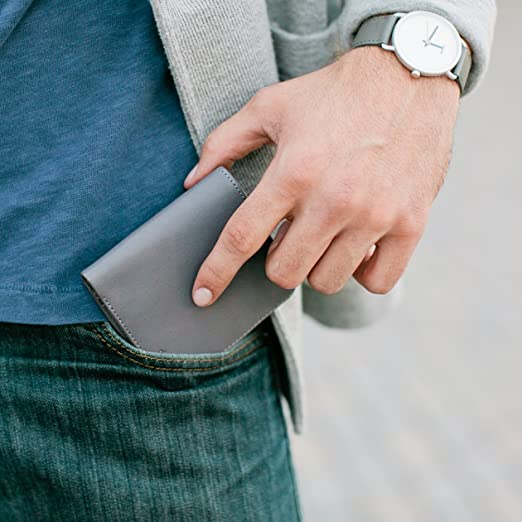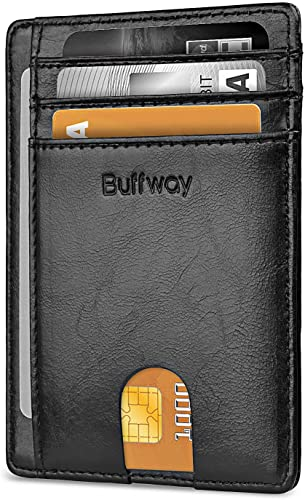 The Buffy Slim wallet is one of the most minimalist wallets on the market. It's a two-faced wallet, ideal to put in a front pocket. Despite being slim and simplistic, its storage capacity is unexpectedly good. This wallet is a great choice for minimalists who dislike carrying bags and prefer to fit everything they need in their pockets when going out. 
Key features
One-year warranty
Made from chrome-tanned leather with polyester lining
It's a skinny and lightweight minimalist wallet
Durable, but not as durable as other wallets made from metal or different types of leather
It comes in many shades
There's an ID slot with a quick access thumb hole that fits two cards 
Behind the ID slot, there are two other compartments, which fit two more cards
There's a big top-down pocket whose capacity is up to four cards or up to eight bills
There's also another card sleeve that takes two cards. This slot is ideal for cards you frequently need since it has a quick thumb access hole
There are three more card slots, each fitting two cards
Amazingly, there's room for up to eighteen cards in this slim wallet, but if you carry that many cards, it will lose its slimness. Ideally, you shouldn't keep more than eight or nine cards to keep the wallet thin and front pocket-friendly
The bills don't fit entirely in the large pocket, they stick out just enough to grab easily
Although there isn't a record of missing cards and cash, the minimalist two-face design might cause concern regarding the security of the belongings in the wallet, especially considering that the cards come out seamlessly 
The brand's website has little information about the products
RFID blocking technology
Price range: Low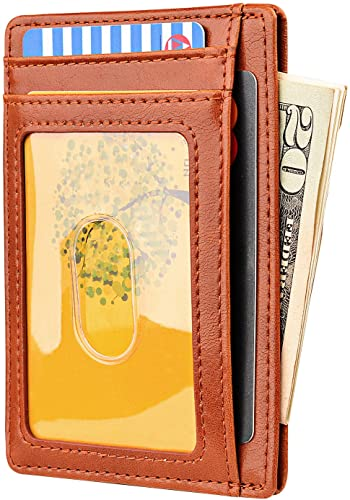 This Allett product is a hybrid between a wallet and a cardholder. It's practical and ideal for whoever wants a minimalist wallet. Even though it's extremely slim and compact, it provides space for everything a minimalist needs.
Key features
Made from top-grain Nappa leather on the outside and tearproof bluesign®-certified ripstop nylon on the inside
Crafted in the USA
To improve resistance and durability, this minimalist wallet has double stitched seams
It's water-resistant
It's a slim wallet
This minimalist bifold model has a clear ID window with a finger hole for an easy pull-out
It holds up to ten cards and folded bills
The card sleeves are equipped with silicon grips to avoid card slipping
There's an in-built sleeve to keep a custom Micro Pen (sold separately)
RFID blocking technology
Price range: Medium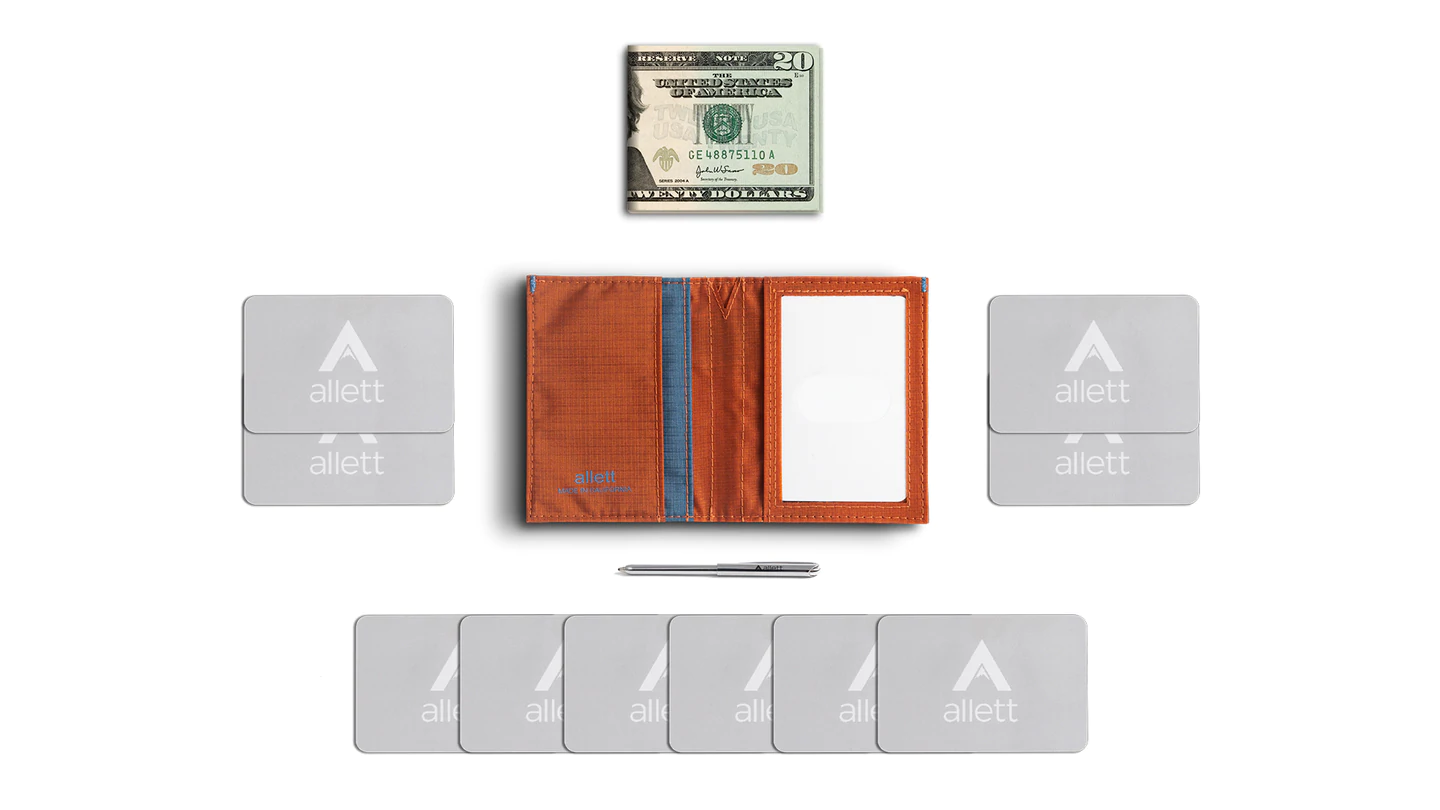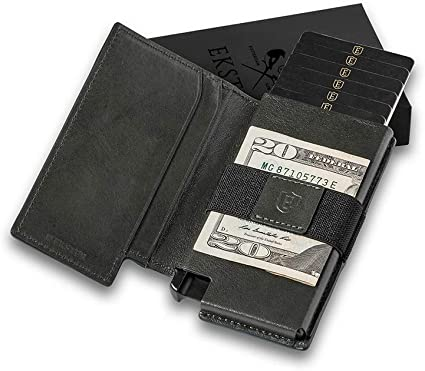 The Ekster Parliament is a beautiful, elegant model designed for people who carry a small number of cards and bills in their wallets. As mentioned above, Ekster is a world-famous brand for its minimalist wallets and good quality craftsmanship.
Key features
One-year warranty
Made from top-grain quality leather, tanned under gold-rated LWG-certified protocols, and 6063 T5 Aluminum, anodized in space gray
Made in China
You can buy an Ekster Tracker Card to avoid losing your wallet
The Ekster Parliament comprises an aluminum box and a leather cover
It's a front pocket wallet
The box contains a card ejection mechanism for quick access to your most important cards at the click of a button
The aluminum card holder fits seven non-embossed cards
The leather cover fits two cards inside and two to three cards in the back sleeve
You can store up to twelve cards in this wallet, but the recommended maximum is eight cards. If you fit more than recommended, the flap doesn't close entirely. Depending on the number of cards and bills, the flap may not shut completely in the first weeks of use. After the first couple of weeks, the wallet takes the natural shape of your pocket and remains naturally closed
And because there needs to be a place to keep cash or receipts, the Ekster Parliament comes with a multi-purpose strap around the aluminum box
There's no pocket for coins in this minimalist wallet
Buyers have complained about having cards fall out of the compartments when the wallet is shaken or turned upside down
RFID blocking technology
Price range: High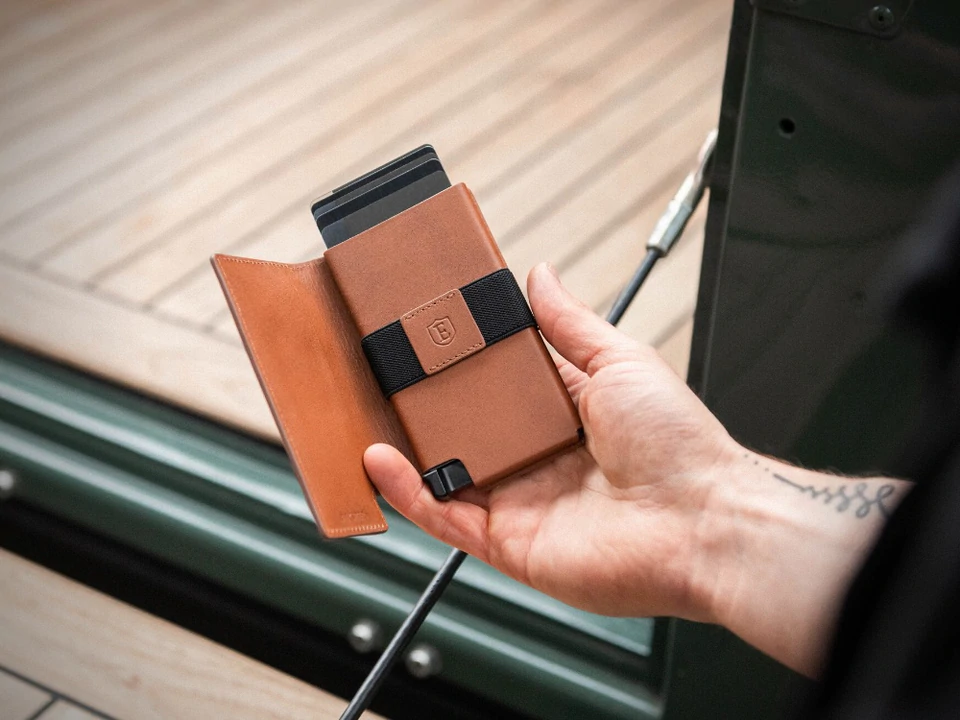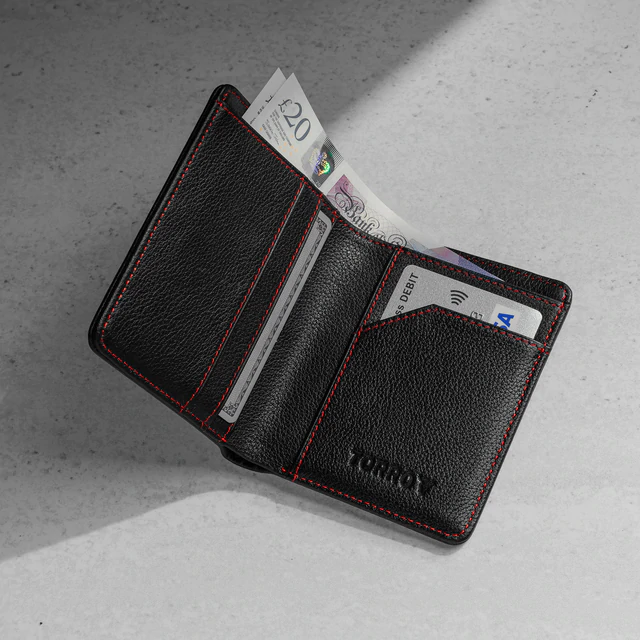 This British model screams class, quality, and style. The bifold wallet's design makes it easier to slip into any pocket, even the front pocket. It's a visually simple wallet preferred by people who avoid clutter in their life. And, despite its simplistic image, a Torro wallet never goes unnoticed thanks to its indented logo on the lower right corner, which comes in varied colors.
Key features
Six-month warranty 
Made from full-grain leather from USA tanneries
Available in a range of colors
It's a customizable minimalist wallet: you can add up to three initials 
There are five internal card slots in the Torro Bifold wallet: one card sleeve for your most important card, such as your ID or credit card, and four vertical compartments for your other cards
Additionally, there's a soft microfiber-lined large cash pocket to store bills or other similar belongings, such as receipts or even some medication 
The recommended number of cards to store at once is five, meaning one per slot. It can go up to eight cards, but you'll end up with a bulky wallet.
The bill pouch is tight, and it may not be adequate for some currencies 
RFID blocking mechanism
Price range: Low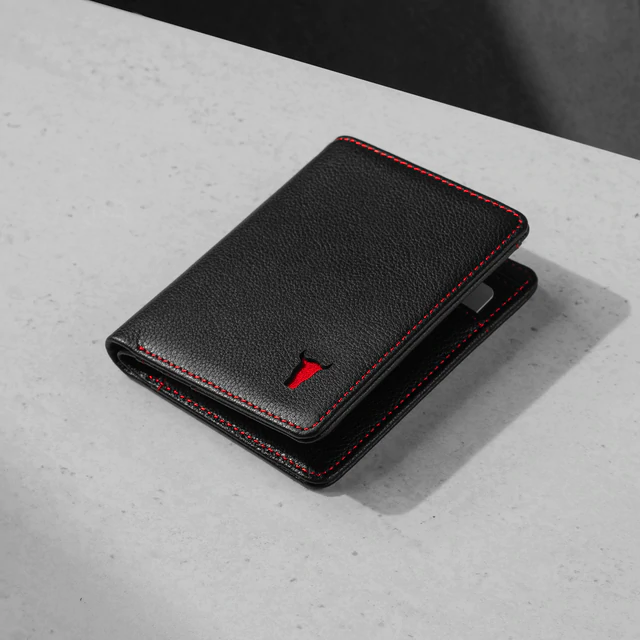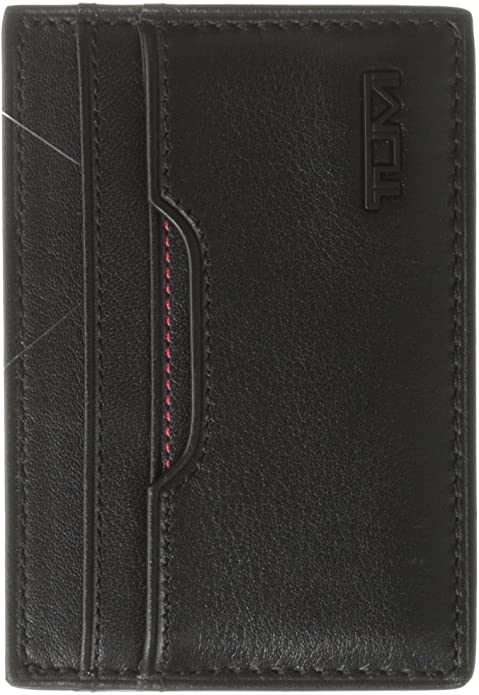 Tumi is an ultra-slim, minimalist, leather wallet that will fit only the essentials. It's a simple leather wallet designed for easy access to cards and identification. And its classy Delta series design with red stitch detail makes it unique.
If you're a person that only needs ID, a credit card, and one or two other cards at hand, this slim wallet is for you. This is also the perfect wallet for a night out since it fits into any regular pocket.
Key features
One-year warranty
Made from soft full-grain leather
Ballistic nylon spine
Tumi works with manufacturers in China, Vietnam, Thailand, and the Dominican Republic
Durable
On one side of the wallet, there's an ID window slot. It's not as quick as it should be to pull out the card from this slot, given that it lacks a thumb hole to slide the card out
On the back, there are two card slots. You can fit up to two cards in each, as long as you don't mind having a bulkier wallet
It's perfect for carrying in a front pocket
On top, there's a currency compartment, preferably for bills, not coins 
RFID blocking technology
Price range: High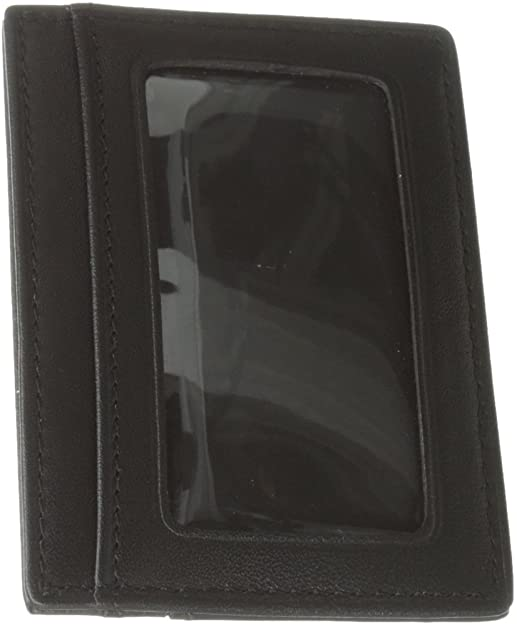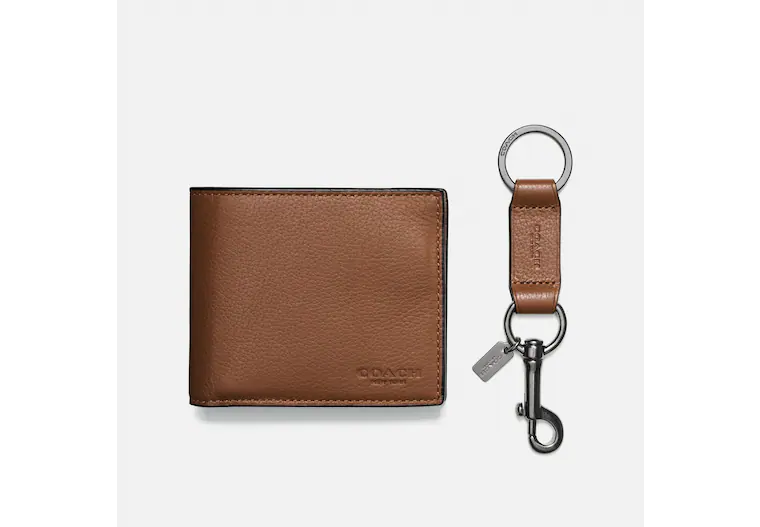 This Coach minimalist wallet is a classy and easy-to-use model. It's adequate for any minimalist, from the rookie who is just starting to get familiar with the concept of uncluttering to the expert that only needs less than a handful of belongings in their wallet.
What makes Coach stand out is the fact that when you buy this model you actually get two separate wallets in one. The bigger wallet is a full-size double billfold wallet for cards, cash, business cards, and whatever else you may fit there. The other one is a removable, smaller wallet–or a pass case–that can be inserted into the main wallet.
The latter is ideal for going out, holding your bus or metro pass, or any other situation in your daily life in which you only need to carry one or two cards. Besides the two wallets, you also get a trigger snap key fob. So given the number of products you get from buying this wallet, we can't consider it to be expensive.
Key features
One-year warranty
Made from sport calf leather
The bigger wallet comprises eight card slots, two inside pockets, and two large cash pouches
The pass case includes an ID window, two card slots, and an inside pocket
If you put the two wallets together, it fits about fourteen cards. You can fit more, but the wallet gets a little too bulky
It comes with a trigger snap key fob
No RFID protection
Price range: High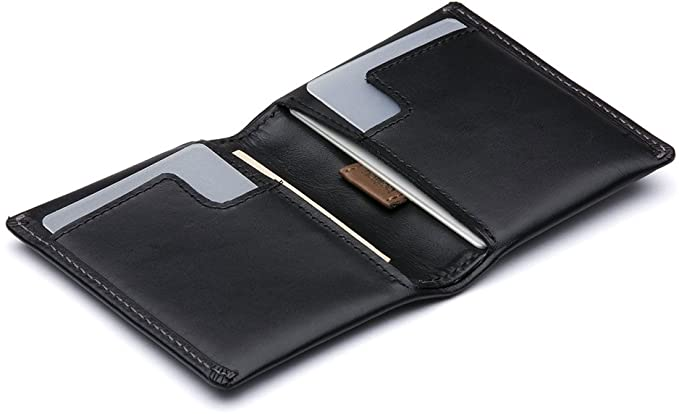 To be a minimalist is to be sustainable by default, but if you're, let's say, extra sustainable, you'll like Bellroy. Although the brand still uses real leather, it has also invested in a vegan collection.
Additionally, over 90% of its textiles come from recycled sources. The recycled PET makes for durable products, which fit Bellroy's goal of creating beloved products and contributing to the preservation of the planet without sacrificing quality. Bellroy's Slim wallet fits in the new vegan collection. There are two variants of this model: leather and nylon.
Key features
Three-year warranty
Made from vegetable-tanned top-grain leather or nylon
Made in China
Durable and resistant thanks to double stitch
Lightweight
Bifold wallet
Each face of the wallet has a quick access card sleeve that fits one to two cards and a multifunctional pocket for cards used infrequently (about four each) or folded cash
The right face contains a non-self-retractable pull tab to pull out the cards easily
Best-suited for the American currency
No RFID blocking system
Price range: High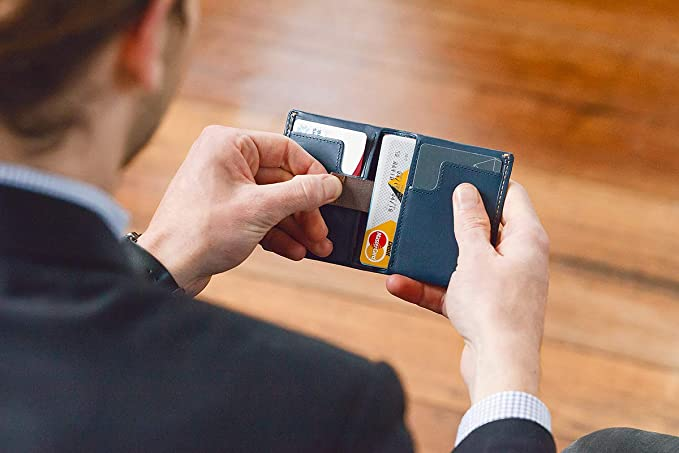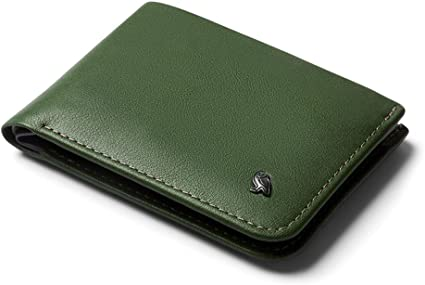 The Bellroy's Hide & Seek is one of the most complete and best minimalist wallets available. Despite its minimalist design and slim structure, it has plenty of storage. It comes in two sizes: the LO and HI models. The first fits bills under 75mm, and the latter bills over 75mm (on the company's website, you can check which is best suited for each currency)
Key features
Made from premium eco-tanned leather sourced from Leather Working Group gold-rated tanneries
Made in China
The wallet has four card slots for quick access that fit one card each and one large, deep pocket that holds around four cards
On the right end of the wallet, there's a hidden card sleeve
There's also a large cash pocket that includes a hidden pouch for extra bills and a coin slot, which are partially covered by a flap folding over the front of the pockets
The wallet takes up to twelve cards and a few bills, but the Hide & Seek gets bulky easily, so try not to insert too many cards and bills
RFID blocking system
Price range: High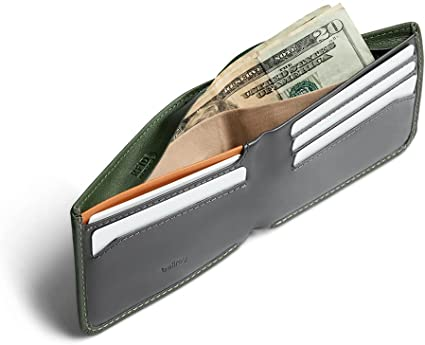 Bellroy's Classic Set has the same features as the Hide & Seek: it's a bifold wallet with plenty of storage. However, this minimalist wallet model is more expensive and comes with a key cover. The bifold key cover fits up to eight keys and has a leather loop for car keys. Moreover, it has a magnetic closure.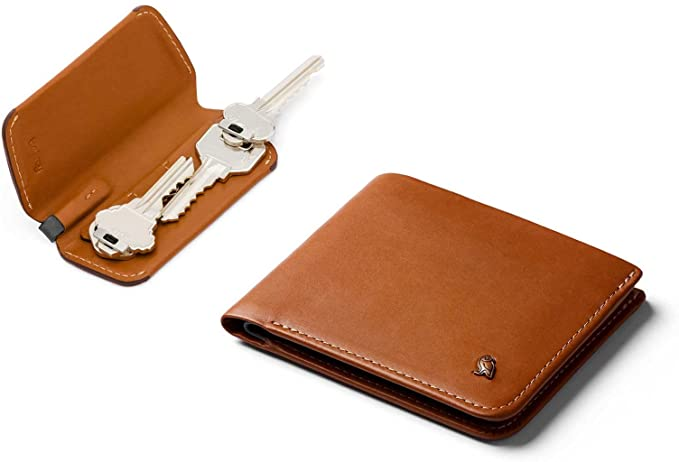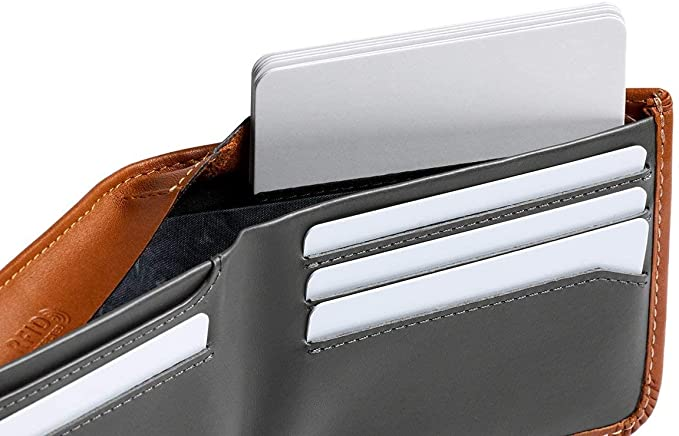 If you're looking for a compact, off-the-wall wallet, the PITAKA metal wallet is for you. This modular card holder is magnetized, customizable, and keeps your wallet business to a bare minimum.
Key features
Made from carbon fiber
It weighs a little over 50g
Made in China
This wallet can only take chip cards, as its magnets can de-magnetize your card's magnetic stripe
It's a front pocket wallet
Besides the main magnets, each layer has more than one secondary magnet to prevent the layers from separating and falling out when you open the wallet
The wallet comes with four layers: the front and back ends plus two card layers
The ends fit one card each, and the layers store two cards each, totaling six cards
You can buy additional wallet parts if you need more storage: you may get more card layers, a money clip, and a multi-purpose box ideal for money, receipts, keys, and more.
The PITAKA wallet keeps the cards and money secure, even if you jiggle and turn the wallet upside down
One great thing about this wallet is that you can add or take layers according to your momentary needs: if you're going out and only need a bank card and ID, you're able to just take one layer plus the front and back ends (it's advisable to carry the ends so to protect your cards)
The most relevant downside to this wallet is the fact that it de-magnetizes the magnetic stripes of cards, making it useless for a lot of people
RFID blocking system
Price range: High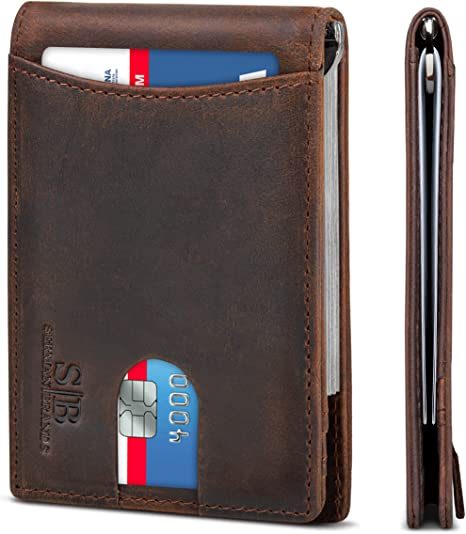 This Serman Brands minimalist wallet is ideal for men who value class and style in their front pocket wallet.
This genuine leather wallet provides room for the most important cards and documents, as well as money, without becoming excessively bulky.
Key features
One-year warranty
Made from genuine leather
Made in China
It comes in several colors
Slim wallet with bifold closure
There's a clear window for ID
There's an external front pocket with a finger hole to slide the card up, where you can store your most used card. There are also two sleeves on the inside and a money clip for several bills (preferably US currency or generally narrow bills)
Best fits six to eight cards
No coin pocket
The wallet comes with a smart pull tab on the outside for easy access to the cards
RFID blocking system (specifically to block 13.56 MHz or higher RFID signals)
The money clip can lose tension over time because it is regulated by a twist on/twist-off
It's not very durable
Price range: Medium
Do You Really Need a Wallet with RFID Blocking Technology?
Before diving into the array of minimalist wallets below, let's address a confusing but important aspect of the wallet space: RFID protection.
Technology evolves at an incredibly fast pace, and it's nearly impossible to keep up with tech news, let alone understand every new device, process, and, of course, scam. And naturally, what's unknown is usually scary and mind-troubling. So, let's figure out how RFID systems gained so much traction over the last few years by understanding what skimming is and how dangerous it can be.
What's RFID skimming?
RFID stands for Radiofrequency Identification and it "refers to a wireless system comprised of two components: tags and readers. The reader is a device that receives signals from the RFID tag" (FDA), which, in turn, stores a range of personal information.
So, when we talk about skimming, we're talking about theft of said information. Ill-intentioned people purchase readers for less than a hundred dollars and manage to scan people's pockets and bags to steal their ID and credit card information. Theoretically, having this type of data, the skimmers can then steal the victim's identity and make fraudulent transactions.
But is this really how it works?
Is Skimming a Real Threat?
Skimming exists, but it's not that big of a threat.
The amount of information stored and transmitted is simply not enough to give way to a crime of this sort. Nowadays, security mechanisms in this field require the use of private keys to enable transactions, access to data, and other operations regarding credit cards, passports, and similar documents. (Roger Grimes)
It's, thus, fair to say that the growing interest in RFID-blocking systems is a result of persistent marketing. This means that you can get a minimalist wallet containing RFID protection if you like, but the best minimalist wallets don't have to have RFID blocking layers.
Have You Decided What's the Best Minimalist Wallet for you?
As you see, there's an array of minimalist wallets out there–just choose the one that sounds more appealing to you and checks all your boxes.
And don't forget to share your thoughts on our suggestions of the top minimalist wallets of 2022, especially if you've got yourself one! We'd love to hear from you.